Crocodingus in Cube Island
From GameBrew - a wiki dedicated to Video Game Homebrew.
CrocodiCrongus in Cube Island
General
Author(s)
PXLteam
Type
Platform Action Puzzle
Version
1.1
Licence
Mixed
Links
Download
Website

CrocodiCrongus in Cube Island is a reflection platform game for the Nintendo DS. This game is full 3D and it runs at 60fps. It includes 10 levels with differents features.
It was ranked 4rd in the the NEO Summer Coding Compo 2008 and entered into the 2009 best DS homebrew contest.
Features
Innovative gameplay combining puzzle and platform-action.
Full 3D graphics with 60 fps.
Three graphic environments (beach, green hill and lava).
10 levels + 1 secret (Can you find it?).
The revolution of sokoban-like games.
Crazy storyline with a crocodile, a crow and monkeys.
Installation
Put Crocodinus.nds (or Crocodingus.sc.nds or Crocodingus.ds.gba) and crocodingus.lvl on the root folder of your card.
The rom must be patched with DLDI in order to save your progress.
User guide
Crocodingus the crocodile is happily playing video games when he carelessly drops his drink onto his console's outlet.
Unfortunately, the drink in the receptacle creates an electromagnetic distortion, and Crocodingus got snatched into the vortex and sent to the pixel world.
In this game, you play as the crocodile called Crocodingus in a cubic environement and you must collect all the bananas from each levels in order to advance.
Controls
Stylus - Move
L/R or Double tap - Attack
Left/Right or Y/A - Rotate camera
Start - Pause
Screenshots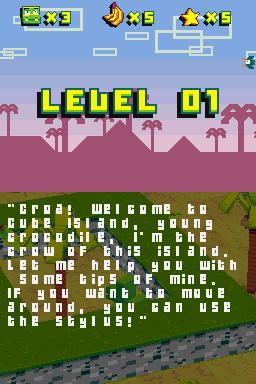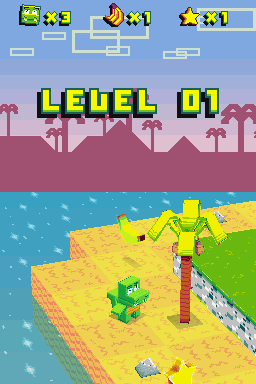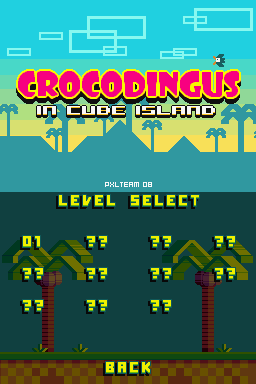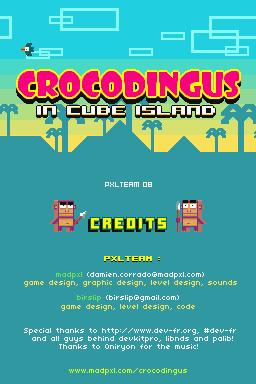 Media
Crocodingus in Cube Island (birslip)

Changelog
version 1.1 2008/08/30
Three graphic environments (beach, green hill and lava).
Some graphics improvement.
Monkeys's behaviour has been fixed.
Save system now works correctly.
Camera's rotation is faster.
The crocodile's speed can be controlled by the stylus.
Some improvements and bugfixes.
version 1.0 2008/08/21
Credits
PXLteam:
madpxl - game design, graphic design, level design, sounds.
birslip - game design, level design, code.
oniryon- chiptune musics.
External links